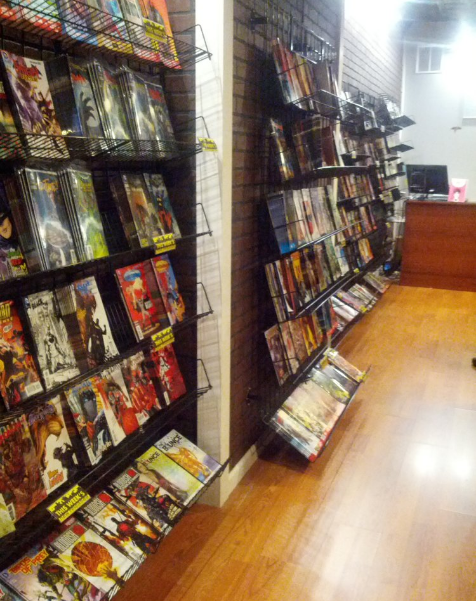 What is Defiant Comics all about? What do you sell/do?
Our goal is to provide everyone with a pleasant shopping experience and to show the public that not all comic shops are created equal. We strongly believe that there is book out there for anyone and everyone, from the youngest of tots to the grandparents bringing them in to shop. We provide a clean, organized, and friendly environment geared toward making the hardest of hardcore fans and the newest of newbies feel comfortable. We are unhealthily obsessed with comics and providing them to the general public with gusto! We are about defying your conventional comic shop!
How long has Defiant Comics been in business?
Three years
Why did you decide to open in Forest Park?
A fun, bold, friendly-neighborhood comic book store was needed on Madison Street! We heard the call and swung in to answer it!
What would locals be surprised to hear Defiant Comics?
We have a Kids Play Room so Mom and Dad can take their time shopping. We have customers that come as far as Schaumburg, Aurora, Orland Park and Downtown Chicago to shop only with us! In addition to comic books, you will also find Toys, Action Figures and Collectibles not found at major retailers. Oh, and Pokemon cards too!
7234 Madison St
Forest Park, IL 60130
708-771-DEFY (3339)
DefiantComics@gmail.com